July 19,2017 – Not sure what has happened to my feed reader for the website but lots of cool stuff has been happening. Normally the front page here displays a lot of posts and updates but for some reason they have all disappeared! Working a lot with Kira Michele with one L lately. She is one of the most amazing people I have ever seen. She can do so many things and she just does it like it is nothing. She has a show coming up on July 28th at Louie Gs in Fife and is opening for several other bands. We have signed a management contract and the record label will be supporting her and helping to promote her. Very happy to be working with such an amazing girl!
Getting some stuff wired in the studio the last few weeks. Lots going on with getting the console getting installed, the truss, the curtains, getting all of the old dual 18″ boxes rebuilt and then hooking up the stuff in the machine room. Really hope that I can remember where all of these damn cables go and what I was thinking when I designed the systems for this place!
Jan 19,2016 I added a couple of new categories for the Musicians Page. You can now post ads of your gear for sale, producers and engineers, and even for music instruction! Check it out here >>> http://tacomarecordingstudio.com/musicians-2/
November 30th 2015 – Two cool updates today!!! First of all I found this local band on Facebook and was just digging on them. They are called Salem Knights and they are from Seattle. I do not know them at all. I had nothing to do with this recording. I didn't record it and it is certainly a very good sounding demo that appears to be recorded live…CHECK THEM OUT!!!! and give them some love!!!! https://soundcloud.com/salem-knights/sets/iron-chair-demo
At the beginning of the song it reminds me of old Celtic Frost but it gets more technical as the songs progress. I think people will enjoy them so give them a listen please!
I also got the first 13 of our 15 doors delivered today. Not normally a big deal until you add up the cost at over $460 each!
October 18,2015 – Still working on getting flooring prepped and ready to be installed. Lots of fun grinding concrete….NOT!
Having issues uploading images for some reason. Cannot get the Media manager and the text editor to function. Anyhow…just imagine that this page was updated with pictures!
Update for July 1 2015!!! Been a long time since the last update! My how time flies when you are busy busy busy!!! OK so the drywall is all done, electrical is all done and painting is about 70% done! Hopefully going to be be able to begin installing gear before the end of summer! Still a lot to do before we can be officially opened for business but it is coming!!!!
Update for Feb 21 – The studio in Tacoma is now starting to actually look like something. Pretty awesome to finally get something that looks like progress done! Hopefully we can get the new flooring stuff sorted out and make a decision on what we really want to do so we can get to using this place and having some fun!
Our studio is just waiting for my contractor to begin the drywall. Hopefully he returns home from Mexico soon enough to get it all done before Christmas!
Nov 19th – Low voltage wiring is done. Insulation is done. Concrete is done….I wonder what I should do next?
August 13, 2014 – Still working on the low voltage lines for the entire studio. Just about have them done now. Just a bit more testing on all of the video lines to make sure they are all functioning as they are supposed to, do then we can continue with the rest of the insulation and sheet rock.
June 2, 2014 – Recording studios in Tacoma, please contact us so we can get your listings posted on our classifieds section! We will be listing all of the other studios in the area as a service to our customers and yours.
Update – Decade Sound is one step closer to being complete now! Finally getting to get started on insulation and sheet rock in the next couple of weeks. We are having some issues with the websites back end and the submission forms were getting stuck in some sort of a code induced loop. So we have switched it up again and this contact form is working much better now. For the past week or so we have not been buying any new gear just yet but have worked on a video project for a local band, mixed and provided gear for several live shows, and even provided some trucking of gear for a couple of bands. Generally been working our tails off trying to get the recording studio done enough that it can be used finally. We have had so many inquiries now from bands looking for rehearsal space in Tacoma to national acts that have wanted to stop by while on tour to record and rehearse their shows. We are even getting inquiries from Australia. Pretty awesome!
Thanks to everyone that is finding the website and sending us requests for rates and scheduling! We have sent emails and notes to all of you on how to contact us for the time being so you can be kept up to date on what the progress is. Our band rehearsal schedule is starting to fill up so if you need space, best to get in touch with us now and reserve a time in the future. We have also been going over different pricing options for the entire recording studio. Other studios in Tacoma (our friends included!) will be happy to know that we are also going to be offering a referral program that may be able to help them with their businesses as well.
If you are a band, or musician, you may want to complete a profile on our "Musicians" page. We have also been getting some requests from agents and other bands looking for talent!
UPDATE – We just uploaded several videos that demonstrate some of our high end equipment. Please go to our GEAR page and check them out! If you are a gear head you will love these videos!
Check them out here: Recording Studio Equipment
Hopefully in June or early July we will be open and ready to begin advertising our services. The band rehearsal portion of our business will offer our clients some incredible benefits not offered by any other rehearsal facility any where in the state.
Decade Sound is our actual business name. Tacoma Recording Studio .com is one of our website addresses. I have been talking to some people and they were finding the site but getting confused as the actual name of our business. It's OK for now. Once the recording studio is actually completed and the band rehearsal space is ready this website will be updated with new graphics and logo images that show the actual recording facility. Bands looking for a space to rehearse in are still encouraged to fill out the form on the right hand side of this page and we will be in touch with you privately. There will be many cool things going on in our recording studio that have never been done in Tacoma, or Seattle that we know of. Please stay tuned or follow us on Twitter!
Our site has been having some issues lately. Tacoma Recording Studio has moved hosting providers due to issues with our last host not keeping their servers clean. Anyhow, if you are here chances are that you are looking for a recording studio or band rehearsal space in Tacoma. We also will be offering CD and DVD duplication as well as performance rehearsal with our state of the art live lighting rig and our 10,000 watt EAW sound system.
Ever wanted to record through a Neve console? Well we have one with 56 channels so there is lots of Neve goodness to go around!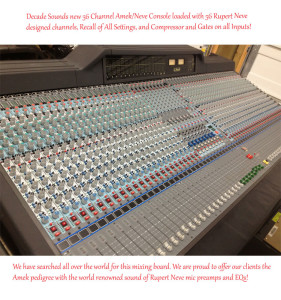 The story of our board is pretty interesting and long but quite cool for anyone that knows about high end audio gear. Other engineers we have told the story to usually sit there with their mouths wide open and their jaws on the floor when they hear the entire story of this amazing mixing board. I had the chance a few times while taking a break from doing electrical work in the building this past week to navigate around the new console and get a bit more familiar with the old software that runs all of the recall functions. Pretty awesome that you can have compressors and gates on all channels and recall all of the analog settings on the desk too.